There is currently no reason for interest rates to rise. Nicolas Faller, Co-CEO of the Asset Management division of Swiss private bank Union Bancaire Privée (UBP), is convinced of this. "We will have to deal with extremely low interest rates for a very long time yet because demand for fixed-income securities is likely to remain high," he said in an interview with the F.A.Z. This is due, he explains, to the regulations which ensure that banks and insurers hold large volumes of fixed-income securities, in particular government bonds.
Faller believes that demographic trends are also responsible for low interest rates: as the population ages, savings capacity and interest in regular income streams are increasing while investment opportunities are decreasing due to lower growth.
"I do not see any risk of a sharp correction or a strong yield increase on the bond market for the time being,"
he says, adding that central banks know to prevent it.
For a Swiss private bank, UBP is relatively young. It was founded in 1969 by the Lebanese–Swiss private banker Edgar de Picciotto and continues to be controlled by his family. The bank manages assets totalling CHF 134 billion, CHF 35 billion of which is attributable to asset management for institutional clients, the division Faller co-heads.
As for the stock markets, he expects to see high volatility triggering corrections ranging from 10 to 15 percent, followed by periods of recovery. Overall, he does not currently consider stocks to be overvalued. Nor does he feel that investors are overexposed to equities, which could force them to take their profits. Faller expects good growth opportunities in the technology and healthcare sectors but is sceptical when it comes to telecommunications and automotive. He also notes that as the interest rate environment is currently weighing on some banks, there is no discernible growth there.
According to his observations, private investors have probably never held as much cash in their portfolios as they do at present. Liquidity currently accounts for anywhere between 20 and 30 percent. "Nobody seems willing to take risks anymore," Faller adds. As he sees it, credit products (private debt) and funds based on them are becoming an increasingly popular alternative in today's environment. These can be loans to companies or for infrastructure projects.
"High-quality private debt products can yield an average of two percentage points more than high-quality bonds."
Faller expects that asset management will increasingly shift to private markets in the future. In ten years' time, he believes, it may well be equally divided between active, passive and private products. "We are positioning ourselves for this development." Private investment products include, for example, unlisted corporate investments (private equity), in addition to credit funds.
Sustainable investment products are becoming increasingly important, he claims. Institutional clients in particular are attaching greater importance to environmental, social, and good governance criteria (ESG), he notes. "They do not want to become involved in scandals that can damage their reputation; they are also recognising the benefits of sustainable investment strategies on their portfolios' risk–return profiles," says Faller. According to him, it is now almost impossible to obtain an institutional client mandate without demonstrating that ESG factors have been taken into account.
As a private investor, Faller has invested 20 percent in private debt and the same in listed credit products. Equities account for 40 percent of his portfolio, and real estate and hedge funds 10 percent each. "Such an investment portfolio enables an annual return of 5 to 6 percent." Faller is happy to work in a family-run bank. Listed asset managers are under particular pressure to increase their assets under management, he explains, because that's what analysts look for. Growing assets, however, is not always in the interests of clients. "In my opinion, listed asset managers may face a clash between the demands of the stock market and the interests of their clients."
Discover our expertise
---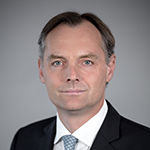 Nicolas Faller
co-CEO Asset Management
Frankfurter Allgemeine Zeitung, Markus Frühauf, 13.09.2019
© Frankfurter Allgemeine Zeitung. All rights reserved. Provided by Frankfurter Allgemeine Archiv.