The related difficulties are especially great because they involve key issues such as regulations and the historically low interest rates.
The swathe of new standards brought in by both national and supranational regulators in the last few years has affected institutional investors' activities in various ways. Insurance companies and pension funds have had to adjust to restrictions that now govern the way they use certain financial instruments. Transnational rules forming part of the Solvency II reform in insurance and reinsurance, along with capital requirements imposed on the banking sector by Basel III, have caused a considerable shift in the prudential landscape. They have also greatly increased the cost of compliance, dragging down operating margins at a time when banks and insurers are having to spend heavily to keep up with the current technological revolution.
Meanwhile, the unusual configuration of the financial markets, with interest rates remaining at historically low levels, is a conundrum for pension funds. Some funds are unable to generate sufficient returns using traditional instruments, raising doubts about their ability to meet their commitments.
The third category of constraints relates to the need for transparency, resulting in more complex reporting requirements and the need for ever more specialist skills.
Pension funds' investment committees want to adopt an asset management approach that meets responsible investing criteria.
However, this multitude of requirements does not necessarily mean that institutional investors' hands are tied, and that they are doomed to achieve unimpressive returns and weak margins.
There is a solution for each of the issues they face, provided they look in the right place. In the asset management industry, the most agile players have always been able to deal with the challenges faced by their clients. As well as the advice they can provide, professional asset managers can put together solutions that address each client's financial needs, as well as their legal and regulatory constraints.
For example, in the current low-interest-rate environment, an asset manager may take a pro-active approach and help the client to invest in asset classes with which it may not be familiar but that offer promising returns.
Examples are ILSs (insurance-linked securities) such as "cat bonds" (bonds linked mainly to natural catastrophes), which have an attractive risk/return profile. Mortgage debt funds, convertible bonds and CDSs (credit default swaps) can also be good alternatives when used sensibly.
After a multi-year bull market, equity valuations are now high, and so it could also make sense for institutional investors to make greater use of alternative investments again, particularly hedge funds, which could replace some equity and bond investments in their portfolios while reducing volatility.
A renewed focus on hedge funds is especially justified since the end of central banks' unconventional monetary policies is likely to deliver arbitrage opportunities, on which these funds thrive.
Although much of the liquidity inflows seen in recent years have gone into passive investments, monetary normalisation in the last 18 months means that it is fully justified for investors to adopt active asset management tools again. Naturally, active investments come at a price because, to add value, they must be tailored to the client's needs, and they require expertise and talent.
The advice of a trusted partner may also be useful when seeking to hedge against market turbulence, whether by using traditional instruments or dynamic solutions involving derivatives such as options. That second category of solutions has the benefit of providing a hedge while also taking advantage of volatility and any market rebounds. In the responsible investment context, asset managers can help institutional clients by helping them to identify companies, sectors and products that not only meet social responsibility criteria but also show real potential to create financial value in the medium to long term.
By shaking up the institutional investment ecosystem, the regulatory big bang and the unusual market movements seen since the 2008 crisis have forced asset managers to reinvent themselves. Although scale and performance remain vital criteria for institutional clients when selecting the best partner, the wide range of issues they face and their need for custom solutions mean that, more than ever, there is a premium on agility.
Institutional Clients
---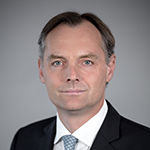 Nicolas Faller
Co-CEO Asset Management