It has been three years since UBP entered into a strategic partnership with Bell Asset Management, a leading Australia-based global all-cap and small- and mid-cap (SMID) equity manager. "Our partnership was really built on the idea of having a mutually beneficial relationship between UBP and Bell," recalls Ned Bell. Through this partnership, UBP's flagship investment solutions range, which encompasses, among other segments, fixed income, hedge funds, private markets, and ESG and impact investing solutions, is marketed in Australia. In return, the partnership enables UBP's clients to access a world-class equity specialist with a twenty-year track record of consistently delivering alpha across a range of market conditions and cycles.
A great opportunity to explore
"In essence, Bell AM has been built on the idea that quality investing is the best way to generate the most consistent excess returns over time. We are always trying to outperform, irrespective of market conditions."
"SMID investing has been a really important part of our journey. We think it is a great opportunity for investors to explore. As fundamental, bottom-up investors with a quality focus, we are very research-intensive and spend a lot of time meeting with companies," he adds. Bell AM not only invests in quality companies, but it also has a very strong valuation discipline. The firm acts as a very long-term shareholder: stocks are normally held in portfolios for 10–15 years.
A positive backdrop for quality investing
According to Bell, after years of undisciplined capital allocation, the new market regime with rising costs of capital and greater volatility has created a very positive backdrop for quality investing. "From our perspective, inflation is very sticky. The Fed and other central banks are having a very difficult time fighting inflation, mainly because of the structural nature of the labour market; there's a shortage of labour, particularly in the United States. If you buy into the idea that inflation will remain relatively elevated for the next 2–3 years, which is our view, then you should focus on the quality factor. Our analysis shows that it consistently outperforms in periods of high inflation," he stresses.
Well-equipped to withstand inflation
Ned Bell and Cédric Le Berre also discuss the fact that SMID caps are well positioned to benefit from the high interest rate environment both from a valuation perspective, as they are trading at a ten-year low, and a fundamental perspective. "During Covid, SMID companies had to reduce the costs of their operations considerably because they had to adapt very quickly to changing economic dynamics, unlike large, more bureaucratic companies. The net effect of that is they are now well-equipped to withstand inflationary pressure," notes Bell.
Headphones on to listen to the podcast!
---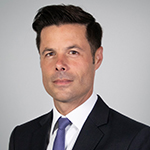 Cédric Le Berre
Senior Investment Specialist
LINKEDIN PROFIL SEHEN