The sudden spike in US long-term interest rates set off a more volatile environment for global equity markets. This, combined with a strengthening yen, resulted in a continuing bearish tone in the Japanese market. Interest rates had previously been too low in comparison with the real economic situation, and we interpret the rise in US rates as part of a normalization process driven by rising WTI oil prices and wages. US 10-year yields are nearing 3%, although we do not think they will adversely affect the real economy if they remain around these levels. Although part of the rise is probably due to concerns over the fiscal situation, we believe that the market will calm down as investors realize that a strong real economy is the reason for rising interest rates. As the market settles down, we expect the FX picture to revert to a cheap JPY scenario based on the fundamental and decisive factor of interest rate differentials.
There has been no change in the global economic expansion and the virtuous cycle in the Japanese economy, which is continuing to drive Japanese corporate earnings growth. Earnings are expected to continue rising on the back of steady global economic growth, whilst Japan's domestic policy environment should remain supportive with the reappointment of BoJ Governor Kuroda for a new 5-year term. Although valuations had overheated slightly, recent corrections have brought the market P/E ratio down to around 14x. We think that this dip is a good buying opportunity for Japanese stocks.
Japanese equities are increasingly attractive: not only is the Japanese economy on a solid footing but, more importantly, companies are focusing more on shareholders and corporate governance. Domestically, the output gap is closing, labor markets are tightening, and companies are leading the way in automation, in order to address labor shortages.
This phenomenon could give Japanese companies more pricing power and help them maintain profitability. Assuming this trend materializes, investors could benefit from companies' greater capacity to meet both local and global demand.
Japan has more than 3,000 listed small-cap companies, which constitute a structurally under-researched investment universe. Not only does this provide great opportunities for active managers, but also future growth is often misunderstood and underestimated. Smaller companies are also appealing simply because they operate in specific and niche segments, where stronger growth and potentially higher returns are more likely. Often, those fast growing companies are in non-consensus business sectors and so the judgment applied by active managers can have more impact on alpha generation.
The case for small caps is based on the view that the Japanese domestic economy is steadily recovering after decades of deflation, deleveraging and contracting demand. We see labor shortages as a secular phenomenon that is having a positive impact on job quality and creating the need for more automation. Fiscal stimulus is also proving supportive and should remain in place with Haruhiko Kuroda remaining as BoJ Governor.
UBP Japanese Equities
---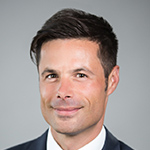 Cédric Le Berre
Investment Specialist US & Japan