Approaches that integrate environmental, social and governance (ESG) criteria, along with strategies like impact investing, are attracting growing interest from those institutional and private investors who are willing to align their investment decisions with their values. The potential is huge, but there are challenges, such as data collection and capacity. Victoria Leggett, Head of Responsible Investment at UBP, recently took part in an Asset TV broadcast outlining the crucial trends on the market and development opportunities when it comes to ESG and impact investing products.
Sustainable investment has witnessed a sea change in recent years, with the asset management industry progressively moving from an exclusion perspective towards a much more positive approach, stated Victoria Leggett during a recent Asset TV broadcast about ESG and impact investing. Along with other industry experts, she added that there is now well-documented evidence that targeting positive social and environmental outcomes can generate competitive financial returns.
At UBP, sustainability is at the heart of investment decisions and not in a "siloed" way
explains UBP's Head of Responsible Investment, admitting that there are still different interpretations in the financial community of what sustainable investments should be.
The concept of impact investing, however, can be easily explained: the impact universe is an umbrella for all different types of asset. Although listed equities are relatively new to impact investing, the inclusion of these liquid assets will play an essential role in the strategy's development, as it makes it much more accessible to investors, Leggett continues.
A company has to meet key criteria in order to be considered a potential candidate for an impact fund. Its "intentionality" has to be thoroughly tested in the first instance, meaning that making a positive and a purposeful impact must be part of its business model. "Additionality" is another key characteristic, insists Victoria: firms likely to stand out as "impact companies" have strong innovation patterns and their processes tend to be unique in their fields. Last, "materiality" also has to be demonstrated. As available data is scarce and often barely comparable between one company and another, relevant KPIs have to be worked through. This can only be done over time and involves strong engagement with a company's management at every stage of the investment process.
In conclusion, Victoria Leggett notes that the risk of style bias that would accidentally make the impact fund look like a renewable energy or healthcare fund, can be mitigated through diversification across sectors.
Impact investing
---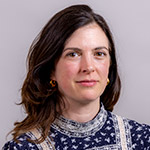 Victoria Leggett
Head of Responsible Investment for Asset Management