Since the start of the year, equity markets have been supported by positive economic developments. Earnings are growing again: on aggregate, earnings per share (EPS) are expected to rise 13% this year as opposed to 2% in 2016. This positive environment is particularly beneficial for small- and mid-cap ("SMID-cap") companies, although returns have varied between stocks in the US, Europe and Switzerland.
Fundamental strengths amplified by a supportive environment
In particular, SMID-caps currently have stronger balance sheets than large-cap stocks, with average net debt/EBITDA ratios of 1.1x and 3.9x respectively. These low debt levels, combined with the global economic upturn, mean that SMID-caps still have substantial growth potential, justifying valuations that may appear high in some cases. That growth potential is also underpinned on a long-term view by their impressive capacity for innovation and their ability to adjust to economic developments, which should deliver additional returns in the absence of any systemic risk.
SMID-caps also have other fundamental advantages. For example, many of them are family-owned companies, managed according to a philosophy that ensures the sustainability of their business. In addition, small companies are often driven by a highly entrepreneurial spirit, the effects of which can be seen most clearly when economic growth is accelerating.
Performance drivers that vary between countries
In Europe in particular, SMID-caps are still offering good investment opportunities because they are attractively valued. European SMID-caps slightly underperformed large-caps in 2016, even though their earnings growth remained positive. Their valuation ratios are currently lower than those of the rest of the market, and lower than their historic averages.
---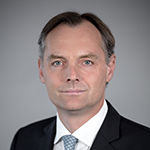 Nicolas Faller
Co-CEO Asset Management – Head of Institutional Clients
---