UBP has become French-speaking Switzerland's top wealth manager in Zurich, according to our information. The bank employs 220 people on a full-time equivalent basis, and 240 in total, in Switzerland's economic capital, far outnumbering the 110 people that number two Pictet & Cie reports having in Zurich.
UBP, which is controlled by the de Picciotto family, manages CHF 25 billion in assets from its Zurich base, out of a total of almost CHF 130 billion. Other banks do not report assets under management by location.
The amount of assets managed by UBP in Zurich has doubled in the last five years. Over that time, the bank has recruited around 100 people there. UBP's growth has been supported by several acquisitions, such as ABN Amro's wealth management business in August 2011 (EUR 11 billion in assets in total), Lloyds in May 2013 (CHF 10 billion in total) and Coutts in late March 2015 (CHF 30 billion).
The impact of the Coutts acquisition
"The Coutts acquisition was the most important one for us, because most of the Coutts assets were managed in Asia and Zurich (CHF 7 billion)," said Adrian Künzi, who has been CEO of UBP's Zurich branch since 1 March 2018.
Geneva-based UBP has operated in Zurich for more than 20 years now. Its building at Bahnhofstrasse 1, acquired when it took over NordFinanz Bank in 1995, is where it welcomes its private clients. It also has another building at Claridenstrasse 22, which houses its asset management teams. Pictet – another major Geneva-based private bank – recently became UBP's neighbour, having announced the purchase of the Leuenhof building on Bahnhofstrasse that used to be the head office of Banque Leu, formerly Switzerland's sixth-largest bank.
International clientele
"UBP's success in Zurich is only partly attributable to our recent acquisitions," Adrian Künzi points out. "Other factors have contributed to our growth, particularly our strong corporate culture, the fact that we belong to a family-owned group – which means simple and clear governance and the ability to take decisions quickly – and the expertise of our investment teams," he adds.
The client base in Zurich is highly international, he says. Zurich is UBP's hub for the Northern Europe region, but also for the growth markets of Eastern Europe, the Middle East and Latin America. Relationship managers are divided equally between clients from Switzerland and Europe, Eastern Europe, the Mediterranean markets and the Middle East, and independent asset managers.
But the Zurich branch does not deal only with private clients. Zurich is the hub for the group's research, emerging-market debt management and structured product operations. Norman Villamin, Chief Investment Officer of UBP's private banking business, is based in Zurich, as is the co-CEO of asset management. Zurich is therefore a key nerve centre for the group, Adrian Künzi emphasises.
Target: CHF 150 billion in assets under management
UBP is a pioneer in the alternative investments field and has expanded its offering in private equity, private debt and tangible asset investments.
"We are seeing renewed interest in alternative investments because of high equity valuations."
UBP is aiming to continue growing assets under management to CHF 150 billion in the medium term. "I'm confident that Zurich will make a big contribution to that growth," says Adrian Künzi, adding that this could happen through new acquisitions if opportunities arise.
UBP Zurich
---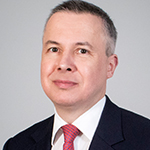 Adrian Künzi
CEO UBP Zurich