Hosted on the top floor of our offices which overlook Lake Zurich, the event drew a large audience of family office professionals. The key feature was a presentation by Samuel Widmann, who was instrumental in Google's success as the co-founder and driving force behind Google Maps. Also present was Roman Mayer, UBP's Global Head of Investment Fund Advisory, who focused his presentation on how technology can help the financial industry to address its main challenges.
Building a copy of the real world
Samuel Widmann explained that geomapping, of which he was one of the pioneers, "[…] basically consists in building a copy of the real world. It is about digitising the world and building a foundation on which you can overlay all the information in real time. We are building a world with more knowledge than the local would know." Mapping services such as Google Maps have revolutionised the way people get around: people are using them to commute and orient themselves, and they submit billions of requests every day. Geomapping also matters for the development of autonomous cars, as a vehicle needs to know where it is in order to navigate.
User experience is critical
According to Widmann, Google is a perfect example of the importance of user experience. "It is not only important, it is critical. Take Google as a search engine. It was launched when there were other search engines in the market. It gained traction very quickly just because it was simple and had the best user experience. The same thing happened with Google Maps: we had developed a new technology which enabled seamless zooming in and out and panning, while others were loading pixels that were super slow. The growth in Google Maps usage was crazy. That was pure user experience," recalls Widmann.
Blockchain and cloud computing
User experience is a key parameter in the financial sector as well. "In our industry, the most valuable asset is our clients," states Roman Mayer. "We need to make sure that we are consistently delivering a top-notch client experience, whether providing the best solutions or managing our investment platform in the most efficient way," he adds. Mayer says that technology will enable the entire industry to take a huge leap forward. Specifically, he believes that among emerging technologies, cloud computing, blockchain and quantum computing, which is still in its infancy, will play key roles in the future of the banking sector. Widman agrees:
"The key to the future of finance, and not just finance, lies in these new technologies that will go a long way to helping solve complex problems, not just repetitive ones, faster and better than ever before."
Investing in technologies of the future
According to Mayer, there are three different ways investors can buy into these technologies. The first is by selecting specific firms in the semiconductor space with a focus on chip design and manufacturing. Second, they can invest in enterprise software. "Today, there is already a large number of companies in the starting blocks ready to deliver the next generation of software tools and services to corporations," notes Mayer. Cloud infrastructure is also an attractive investment space, "Not all opportunities are available on listed markets. It is also worthwhile exploring investment opportunities on the private markets," he adds.
More about our Zurich office
---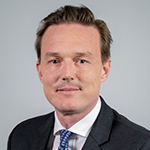 Roman Mayer
Global Head of Investment Fund Advisory
VEDI PROFILO LINKEDIN