With the period of extremely accommodative monetary policies – implemented through quantitative easing – coming to an end, fixed-income markets have found themselves under stress in recent months. Portfolio construction is getting more and more important in the higher-volatility regime that is beginning to take hold of the financial markets, states Mohammed Kazmi, along with other industry experts during a recent Asset TV broadcast on fixed-income funds selection.
According to UBP's Portfolio Manager, it is not because they need to fight inflation that central banks are progressively removing liquidity, but rather because they feel comfortable with growth prospects.
With the macro outlook remaining positive and certain valuations becoming attractive after recent sell-offs, the actual tightening of monetary policies does not have to be seen as being broadly bad for financial markets, and risk markets in particular. Although investors tend to focus on interest rates hikes and rising volatility, there are actually a lot of opportunities, asserts Kazmi.
In this changing environment, where dispersion and volatility are on the rise, picking winners demands a much more active security selection. Finding pockets of value also requires an increasing use of liquid instruments for investors to be able to navigate through the more volatile markets and allow them to get more defensive or more aggressive depending on their assessment of market conditions.
As far as emerging bonds are concerned, notes Mohammed Kazmi, they are now going through a "test phase", as some of the flows driven by quantitative easing are still leaving these markets. In contrast to previous crisis, emerging markets seem so far to be immune to the risk of contagion thanks to improved fundamentals. Nevertheless a cautious and selective approach remains necessary in the short to medium term.
Global & absolute return fixed income
---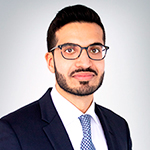 Mohammed Kazmi
Portfolio Manager & Macro-Strategist