A graduate of the University St. Gallen, Christel Rendu de Lint also holds a PhD in economics from the London Business School. After interning at the IMF, she started her career in 2000 as an economist with Morgan Stanley. Three years later, she moved over to Pictet Asset Management as a fixed-income portfolio manager, where she would eventually become the co-manager of Pictet's largest fixed-income fund at the time. In 2007 she joined UBP with a brief to grow the fixed-income business. Today, Christel is a Senior Managing Director and Head of Global & Absolute Return Fixed Income, leading a team of a dozen people who manage over CHF 17 billion.
"To my mind, the real key to success is hard work – just as it is in every other business! For asset management in particular, you have to find your own style and develop a robust investment process around it. Then, you have to craft a team capable of working together applying this investment process. One of the main difficulties of this profession is expressing strong convictions while being able to recognise mistakes quickly; this means constantly questioning yourself. Finally, you have to be able to innovate so that you can respond to clients' needs and to any paradigm shifts. By applying these principles we've been able to increase assets under management from CHF 2 bn to CHF 17 bn in just ten years and to launch high-yield bond strategies that regularly perform at the top of their class.
The difference between an asset manager of reference and any other is, coherence and longevity.
You have to know how to adapt to the evolving surrounding conditions while remaining true to yourself and your own investment style, in the hope of providing excellent results over the long term.
This is the way to ensure the sustainability of the asset management business. Moreover, performance – and its consistency – is vital. When two funds with comparable performances compete with each other, transparency of communication, clarity of investment strategy and team stability are also major advantages. Yet, you should not underestimate the importance of the sales force of the institution, i.e. its ability to put its investment managers in front of clients.
I have never been driven by the quest for influence. I seek to achieve top quality at all times, so that we can offer clients the best results, day in, day out. If your returns to investors speak for themselves, clients will want to listen to your opinion and invest with you. I also stick to my own guidelines: attention to detail, discipline and respect for the rules. However, if there were only one prevailing principle, it would be that the client's interests and the reputation of the Bank come first.
As for the future, I am very positive on how asset management is set to develop, as both private and institutional clients will always need high-performance solutions for their investments.
The demand for fixed-income products will remain high in the current environment of moderate growth and inflation, characterised by weaker productivity gains in developed countries. The profession will continue to evolve in line with the trends that we've seen in recent years: the demand for transparency; the need to innovate in order to stand apart from ETFs; and, for fixed income in particular, coherence between the liquidity offered by investment vehicles and the liquidity of their underlying investments."
More about Global & Absolute Return Fixed Income
---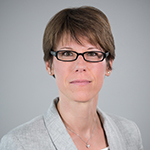 Christel Rendu de Lint
Head of Global & Absolute Fixed Income