It is not just about a short trading window either - European "smid caps" demonstrate long-term appeal, due both to the segment's fundamentals and the profile of its constituent companies. Because of their smaller size, these companies start from a much lower base and can generally grow more quickly than their large-cap peers. In addition, they typically operate in fast-growing or attractive niche segments of the market.
There are roughly 1,500 European small and mid-caps, i.e. companies with market capitalisations of between €200 million and €5 billion. Analysts and asset managers pay relatively little attention to these smid caps, giving those specialising in this segment something of a competitive advantage. With time and application, it is perfectly possible to uncover gems that the broader market simply overlooks.
Although smid caps obviously vary widely in terms of their profiles, financial strength and business models, the segment seems to offer more scope for generating value. Much of this is down to the fact that the smid-cap universe contains a lot of companies operating in niche markets. Many have good pricing power because of their industrial expertise, exclusive products or innovations. Such characteristics can really help to mark out a sure-fire path to earnings growth. That is especially the case in the manufacturing, technology services and healthcare sectors in markets like Sweden and Germany, which have a rich fabric of small and medium-sized companies.
Looking to the future, European smid caps are set to show strong earnings momentum for the rest of 2016 and into 2017. Overall, they should offer more vigorous growth than large caps, whose earnings remain subdued by ongoing regulatory headwinds in the banks and insurance sectors. In addition, M&A deals, major demographic trends and shifts taking place within individual industries provide attractive themes across the smid cap sector.
However, it is important for investors to take steps to avoid certain pitfalls. Stock selection remains crucial, more so than in other parts of the equity market because liquidity and volatility can be more problematic than elsewhere. By taking a stock-by-stock approach, an investor can reduce dispersion of returns. To achieve that, an effective solution is to look at both the internal and external factors that drive a company's performance. This can start with an analysis of the quality of the company's balance sheet, its cash flows, operational structure, management, business culture and ability to limit costs. It can then lead to further consideration of the broader challenges and opportunities relating to the company's economic and sector environment.
In terms of investment selection it is not necessarily about making apparently obvious choices among only companies with stable, predictable growth. Companies whose earnings are growing quickly after a turnaround, restructuring or change in business model should also be taken in consideration since they can often offer attractive buying opportunities. Furthermore, companies involved in M&A deals – which are especially common in a number of sectors including the business services and logistics sectors – are likely to attract attention and see their share prices rise. Looking specifically at companies in the healthcare sector, they may well benefit from major demographic trends such as population ageing. Additionally, fundamental shifts in the technology sector could prompt disruptive but beneficial change in a number of industries.
---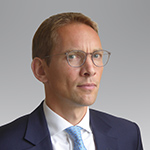 Charles Anniss
Small- and Mid-Cap Portfolio Manager, European Equities team