Four countries – France, the United Kingdom, Norway and Sweden – are aiming to go carbon-neutral; fifteen others have begun in-depth discussions on the subject. The European Union has decided to ban the use of several single-use plastic items in 2021 and to halve CO2 emissions generated by freight transport by 2050. For people and consumers, student strikes and climate-change protests, along with the decline in meat consumption, show a shift in thinking that cannot be ignored. The change that is underway in the global economy requires a massive amount of investment, which will benefit those companies that are working to rise to the environmental and societal challenges. Benefiting from the exceptional growth potential of these companies over the coming decades is exactly what impact investing is about: selecting assets that have a positive and measurable impact on society, while also offering investors an attractive outlook.
But how can these high-potential assets be identified and their impact assessed? Current selection methodologies are based on the roadmap provided by the UN's seventeen Sustainable Development Goals (SDGs). UBP has developed its own tailored measurement system in partnership with the Cambridge Institute for Sustainability Leadership (CISL). This divides the SDGs into six investment themes: basic needs, health & well-being, inclusive & fair economies, climate stability, healthy ecosystems, and sustainable communities. Companies are then thematically analysed using the "IMAP" criteria (intentionality, materiality, additionality and potentiality) in order to measure their impact intensity.
The aim is to assess, for example, the portion of R&D investment allocated to solutions that generate a positive impact, or the portion of revenues that comes exclusively from these solutions. There is also the question of determining whether or not a company is positioned to become a leader in its field.
In the "healthy ecosystems" category, Aquafil is an excellent example of a company with attractive potential in terms both of its solid financial fundamentals and of its significant positive impact – its score comes in at 15/20 according to our IMAP criteria. Aquafil, a listed Italian business that operates internationally, produces synthetic fibres (nylon) for carpet manufacturers and the clothing sector. It has become an industry leader in developing technologies that contribute to a circular economy. Its proprietary "Econyl" process recovers nylon waste, such as fishing nets from the oceans, and fabric and carpet scraps, and turns it into high-quality nylon yarn. This unique process has already won over several major high street and luxury fashion brands, such as Adidas, H&M, Stella McCartney and Prada. Every USD 1 million invested in the company accounts for the recovery of 1.3 tonnes of fishing nets and the regeneration of 1.02 tonnes of waste carpet per year.
Positive-impact names such as Aquafil are helping to lay the foundations of sustainable growth and a circular economy, in stark contrast to the so-called "take, make, waste" culture that uses up natural resources. In a circular economy, used products and materials are recycled and regenerated at the end of their life cycle. However, the road to spreading these practices is a long one. Today, only 9.1% of the global economy is truly circular. This is where impact investing has a major role to play, both for safeguarding the planet and for sustaining investment performances.
Responsible Investment
---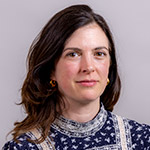 Victoria Leggett
Head of Impact Investing