UBP chief executive Guy de Picciotto said the Swiss bank has an "extremely positive and growing business'' in Asia. Assets are understood to have grown significantly since UBP acquired the international wealth management business of the Royal Bank of Scotland in 2015. This involved the transfer of Coutts International's business in Singapore and Hong Kong to UBP, which gave it a foothold in Asia.
UBP's latest annual results do not specifically break down Asia's share of assets. As at end-2017, it was reported that Asia accounted for 15 per cent of group AUM and the ambition was to raise its share to 30 per cent in the medium term.
Asia's revenues rose 18 per cent in 2019, and combined assets and liabilities grew by 24 per cent. Mandate growth in Asia was particularly strong at 30 per cent.
Said Mr de Picciotto of Asia's business performance in 2019: "Concerns were manifold and not just in Asia. There is the low-rate environment which leads to assets being highly priced. How do we invest when there is a trade war? Europe isn't growing and the US is in a pre-election year.
"We tend to try to create products that offer the best yields, while still investing in equity markets. We have a normal asset allocation of 50 to 60 per cent in equities. From time to time, we buy protection. We're able to buy protection on the downside while giving us 100 per cent of growth for a small price.''
UBP last week released its full-year 2019 results. Assets under management (AUM) rose 10.6 per cent to 140.3 billion Swiss francs (S$196.4 billion), thanks to favourable markets; strong performances of managed mandates; and "substantial'' net capital inflows of 4.5 billion Swiss francs.
The total AUM comprises 107.9 billion Swiss francs for wealth management and 43.3 billion Swiss francs for asset management. The latter figure includes 10.9 billion managed by the asset management business on behalf of wealth management clients.
The group said Asian entities contributed "strongly'' to the group's organic growth, as did the Near and Middle East and Eastern Europe regions.
Group revenues inched up by 0.6 per cent to 1.07 billion Swiss francs. Net earnings fell 7.2 per cent to 187.8 million Swiss francs.
The results included the sale of real estate in London and the payment of US$14 million to the US Department of Justice as part of the Swiss Bank Program, which is a program for Swiss banks to resolve potential criminal liabilities in the US.
Mr de Picciotto said in a statement:
"Our industry is facing major challenges such as negative interest rates, margin pressure, new competitors, and digital development. It is therefore vital that we continuously anticipate, innovate and adapt our offerings to the fast changing requirements of both private and institutional clients, as demonstrated by our successful private market product offerings.''
A number of trends underpinned growth in Asia. These included strong demand for access to private market investments, continued interest in diversified fixed term funds and a strong increase in bespoke mandates.
UBP has sought to offer clients products with enhanced yields. These include a fixed income strategy providing exposure to mainly US investment grade securities, while keeping duration short.
Another is a fund that offers clients access to invoice discounting, a financing facility where a business owner uses unpaid accounts receivable as collateral for a loan. The business benefits with an improved cash flow, and the financier also benefits as it acquires the invoice at a discount.
Invoice discounting is typically the domain of merchant banks, but a wider access is now enabled by global fintech platforms. Funds that invest in invoice discounting are able to offer high single digit returns versus the duration and credit risk they underwrite.
In terms of private market investments, UBP last year offered clients a bespoke private equity vehicle to invest in small and medium sized enterprises globally. Past deals included investments in real estate such as US government leased properties, and a private equity fund to address the challenges of sustainable food supply.
Discover UBP
---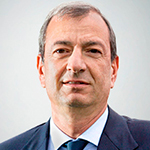 Guy de Picciotto
Chief Executive Officer
Source: The Business Times © Singapore Press Holdings Limited. Permission required for reproduction