Fixed income, and risk markets more generally, are no longer receiving the support they once did from central banks, as the period of extreme monetary accommodation via quantitative easing comes to an end, with investors having to now deal with a new regime of tighter monetary policy.
This reduction in liquidity leads to higher volatility, note Mohammed Kazmi and other industry experts during the Masterclass. According to UBP's Portfolio Manager, investing in fixed income is no longer about buying across the board and chasing yield alone. The changing environment requires much more selectivity in order to pick the winners. It also requires an increasing use of more liquid instruments, to be able to react and navigate through the more volatile market. Such developments make the case for active managers.
This is especially true as the withdrawal of liquidity is coming at a time when markets are haveing to contend with various unresolved issues including the US–China trade row, budget talks in Italy, and the sell-off in emerging markets.
Nevertheless there are pockets of value, states Mohammed Kazmi, such as the return potential in US high yield. Investors shouldn't focus excessively on the negatives, he adds. Federal Reserve rate hikes in the near future shouldn't be too detrimental for the market as they have already largely been priced in. So despite some uncertainties, the macro outlook remains positive with inflation being kept well under control, while global growth is still relatively robust.
On the other hand, although valuations have become more attractive, emerging markets remain under pressure. Having seen significant inflows in the past few years, they are now going through what Mohammed Kazmi defines as a "cleansing phase" as some of the "tourist" money, driven by the quantitative easing environment, is still leaving these markets. Until credible policies are put in place by central banks and governments in some of these emerging countries, a cautious and selective approach is necessary.
Global & absolute return fixed income
---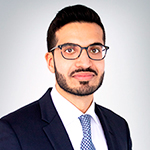 Mohammed Kazmi
Portfolio Manager & Macro-Strategist