The bay area's population of 85 million people and growing middle class, as well as Hong Kong's efforts to court family offices, bode well, he says.

Switzerland's Union Bancaire Privee (UBP) is planning further expansion in Hong Kong and the Greater Bay Area (GBA) after experiencing substantial growth in the area over the last five years despite the pandemic, according to its top boss.
"If you look at the growth profile of UBP over the last five or six years, about 75 per cent of our growth in Asia has come from the Greater China region,"
CEO Guy de Picciotto said in an exclusive interview during his first visit to the city in four years.
The visit has confirmed his belief that Hong Kong is a suitable base for his bank to expand in the bay area, which integrates Hong Kong, Macau and nine mainland cities in the Pearl River Delta into what Beijing intends as an economic powerhouse."Before I came here, everybody told me I would see how Hong Kong has changed," de Picciotto said. "Fortunately, I have not seen that change. Hong Kong is still full of energy. It is a booming city where every person is busy doing business."
UBP sees a bright future for Hong Kong given its position within the Greater Bay Area, which has 85 million people and a growing middle class that will need wealth-management services, de Picciotto added.

UBP will also expand in Singapore, as de Picciotto believes both cities will help the private bank capture opportunities in Asia as a whole. The expansion plans come after de Picciotto found the bank's Asia business has been on a five-year growth trend despite the three-year pandemic's interruption of business and cross-border travel."Our revenue, assets under management and profit in Asia have doubled over the last five years," he said. "This proves the region has a lot of demand for wealth management, and the future is looking brighter as borders have been fully reopened after Covid."
The lender had about 140 billion Swiss francs (US$157 billion) in assets under management as of the end of June, with Asia accounting for around 14 per cent of the total.
De Picciotto has managed UBP, founded in 1969 by his father Edgar, for more than 25 years. The bank focuses on wealth management and asset management and likes to use a combined approach of organic growth and mergers and acquisitions to expand its business.
The bank has conducted 20 mergers or acquisitions since its establishment, including the purchase in 2015 of the international business of 300-year-old British wealth manager Coutts from Royal Bank of Scotland, which expanded its Asia and Middle East footprint.
"We will continue to use mergers and acquisitions to expand our business but only if we would find the right opportunities."
"We will, however, always keep our focus on asset and wealth management, which is our core strength."
De Picciotto is keen on expanding family offices in Hong Kong as the government makes efforts to attract such companies, which wealthy families set up to conduct succession planning, charity work and investment.
The Financial Services Development Council on Tuesday set up the Hong Kong Academy for Wealth Legacy to cater to family offices as another step towards the goal laid out last year by Chief Executive John Lee Ka-chiu to attract 200 family offices by the end of 2025.
In March, the government outlined a number of initiatives in service of that goal, including tax concessions, talent development and the establishment of a wealth management network. In his policy address last month Lee announced a refreshed Capital Investment Entrant Scheme to provide residency to eligible applicants with HK$30 million (US$3.8 million) of investments, such as equities and Hong Kong-listed bonds. "There are currently many promotional efforts by the Hong Kong government and regulators," de Picciotto said. "Having incentives for the family offices to be set up in Hong Kong is definitely a positive step forward."
Investment sentiment in China is poor at the moment, so many international investors are taking a wait-and-see approach, but UBP still believes in the nation's long-term prospects.
"In the long term, investors view the Greater China region as an important region," de Picciotto said. "For the short term, they adopt more of a wait-and-see approach," because of China's economic outlook as well as high inflation, high interest rates, and uncertainties due to wars in Europe and the Middle East.
"We need to wait for things to stabilise everywhere before investors will increase their investment in stocks again," he said. "We believe it is time to buy short-term fixed income and to hold cash.
"We favour the US equity market at present and note there will be a US presidential election next year. Certainly, we can expect some better performance in equity markets as we look ahead. So I think it will become easier next year."
Our wealth management solutions
---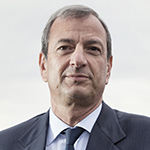 Guy de Picciotto
Group CEO