What sets you apart from your peers in the Asia-Pacific region this year and why?
What makes us unique is the way we approach the business. We are a pure player in wealth management and have successfully built our niche presence amidst South East Asia's rapid private wealth expansion. We focus exclusively on one core activity, and we do it extremely well, and that is global wealth and asset management for institutions as well as high net worth families.
Another way we stand out is our long-term approach to growing our business. UBP is not listed and has been family owned since it was founded in 1969. This enables us to take a longer-term view than perhaps a publicly listed company, given their pressures of quarterly reporting.
This approach also applies to our emphasis on forming lasting relationships with our clients, where we adopt a portfolio approach rather than one that is product led.
We have the capacity to offer an "institutional style" service to our private clients at a threshold level which other private banks would struggle to match.
In addition, we have a clear sense of risk management, which has to fit appropriately with every client's broader asset allocation strategy.
How have your colleagues contributed towards the success of your organisation?
We have over 1800 staff globally of which approximately 20 per cent are based out of Asia. These include senior private bankers, seasoned wealth planners and advisory specialists. Our ability to attract and then retain staff who are experienced experts in their field is a powerful driver of our growth. Having a low turnover of staff really does make a difference when it comes to understanding the needs and expectations of our clients and forging long-term relationships.
Our dedicated team in South East Asia develops propositions that are bespoke in nature providing our clients with a comprehensive offering to match their respective needs. As previously mentioned, we never take a onesize- fits-all approach. With our scale, we can be nimble and swift to adapt to clients' changing requirements. This approach has worked well for us in South East Asia. More than 70 per cent of AuM are now from clients who entrust us with more than $10 million of their liquid assets.
What are you going to do to stay on the front foot in a fast-growing but also challenging region such as this?
2019 marked a year of continued progress for us globally and indeed across Asia, with regional revenues up by 18 per cent yearon- year and strong mandate growth at 30 per cent. However, in the fast-growing Asian markets, success is defined less by our past achievements and much more by how we anticipate and adapt to a new future - this belief is ingrained in our DNA as an organisation. In Singapore, we particularly welcomed the granting of our wholesale licence in April 2019.
Additionally, across the region, we are seeing a much stronger pace of inter-generational wealth transference. Given this new reality, it is critical for us to ensure our proposition is attractive to the next generation and to offer them solutions that resonate, such as ESG and impact investing as well as Direct Investment opportunities that may not be accessible normally.
Also, as part of our "whole family" approach, we have expanded the provision of family office services where we blend our internal expertise with that of a number of external experts.
Just these few examples are a good demonstration of how we seek to expand in South East Asia – we are innovative, agile and focused in all that we do. We will continue to take the initiative, to find new ways to support our clients, to identify potential opportunities and to deliver client solutions that are right for a rapidly evolving global landscape.
Our business is never static, it constantly evolves.
What have been the challenges you have had to overcome to reach such a standard?
UBP's Asian book has grown significantly following acquisitions in recent years, including the international private banking divisions of Royal Bank of Scotland (Coutts International), Lloyds International, the Swiss subsidiary of the ABN AMRO group, ACPI Investments in London and Banque Carnegie Luxembourg.
When we scaled up our business after these acquisitions, it was challenging to build a robust platform infrastructure, as well as to organise the bank around it. At the same time, we continuously work hard to maintain a strongly compliant and entrepreneurial spirit within the organisation to ensure long-term, sustainable growth. At UBP, we view Asia as a key region for our bank. Our goal will always be to be a leading Swiss Wealth Manager in the markets of our choice.
Whom do you look to for inspiration and ideas?
At UBP, we believe in dedication, conviction, agility and responsibility. These motivating factors are derived from our founding family's subtle blend of strong moral values, pragmatism and a commercial mind-set, which to this day remain the key to UBP's success.
What do you hope will be the result of receiving this accolade? How does it help your business in this region?
The award is a testament to many individual contributions and the strong teamwork seen across the business over the past year. It is a validation of the increased recognition from partners and clients in Asia of the strength of UBP's offering.
With the trust of our clients, we will continue to strengthen our proposition in four key areas: furthering our Independent Asset Manager platform, growing our Family Office offering, launching a corporate finance advisory referral panel and customising investment mandates for UHNW clients using our asset management platform. We expect our operations in the region to enjoy robust growth driven by local investors' strong demand for bespoke wealth management solutions.
---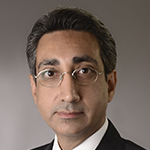 Ranjit Khanna
Head of South Asia