Eli Koen, Emerging Equities Portfolio Manager at UBP, recently participated in an Asset TV Masterclass discussing how impact investments in public markets can use investors' capital for public good.
With more and more people realising how vulnerable we are to the alarming trends in biodiversity loss and climate change, and how deepening inequalities are starting to threaten the resilience of our societies, the COVID-19 crisis has thrown a fresh light on impact investing.
"Impact investing concentrates on what the main global challenges are and how can we create solutions for them,"
stressed Eli Koen, along with other industry experts during the Asset TV Masterclass.
He then set out what differentiates impact investing from ESG (environmental, social and governance) investing. "Impact investing consists of investing for a measurable social and environmental impact with a return target," he says. "It's mostly about what the company does rather than how it does it, which is the main focus of ESG. The question that has to be answered is this: is this company driving positive change in the area under consideration?"
Impact investors concentrate on the most pressing global challenges and pick the companies that are coming up with the best solutions. These companies, UBP's specialist tells us, are in a good position to generate favourable returns.
"Impact investing solutions give investors the opportunity to make sure that their investments are aligned with their values. But people tend to think that focussing on impact means that something has to be given up in terms of returns. This is not true," he adds. Indeed, impact and returns coexist and are mutually beneficial. "The most important message is that there's no trade-off between returns and positive impact," insists Koen. In other words, doing well while doing good is a very achievable objective.
Until a few years ago, impact investing was largely confined to private equity, meaning that it was not easy to access opportunities. It has since evolved to include listed securities which give investors an easier way to invest with the aim of generating a positive social or environmental impact.
Nevertheless, selectivity is key in impact investing: the number of companies that can credibly claim a meaningful contribution to a positive change with a high potential for growth is much smaller than the number of generic listed equities.
In emerging public markets, for example, there are thousands of stocks to invest in. However, in screening these markets over the last three years, Eli Koen has only identified 150 stocks as good candidates for impact investing.
Impact investing
---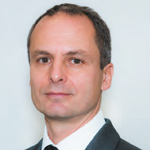 Eli Koen
Portfolio Manager