Key points
Elections in the Netherlands, France and Germany look highly uncertain and could interfere with the ongoing recovery scenario in place. 

The future of the Eurozone is heavily dependent on the results of these elections, particularly from the outcome of the election in France. 

European markets have not priced the extreme scenario of a "Frexit" – France leaving the Eurozone. 

Impacts from politics on European assets could be asymmetrical: potential heavy losses in case of extreme political scenario versus a modest rebound in case of a "pro-European" outcome from the elections.

Read the Spotlight
---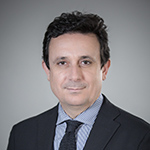 Michaël Lok
Group CIO and Co-CEO Asset Management


Norman Villamin
CIO Private Banking


Patrice Gautry
Chief Economist