Hedge funds have not always had a good press in the last few years, due to their association with derivatives and reckless risk-taking. However, such news stories do not reflect the real purpose of hedge funds. Far from increasing risk, they seek to limit them by pursuing clearly defined strategies. Their aim is to deliver steady returns by exploiting market inefficiencies.
An ideal market context for hedge funds
In the current market environment, the returns profile shown by hedge funds makes them an oasis in the desert. Bond yields in Europe have been minimal for several years now, and sometimes even negative. In addition, rising interest rates – which are already happening in the USA – represent a risk for bondholders.
Similarly, equity markets have become more volatile and unpredictable since the start of the year. In February, equity-market volatility hit a two-year high, and ongoing international trade tensions are keeping global markets under serious pressure.
In the circumstances, increasing numbers of investors are seeking new ways of diversifying their investments by gaining exposure to asset classes that show limited correlation with market movements. Although real estate is often a popular way of achieving this, it has the disadvantage of low liquidity. Hedge funds, conversely, use flexible, highly liquid instruments to form investment strategies that show little correlation with equity and fixed-income markets, while also limiting risk.
The four main hedge-fund strategies
Hedge funds follow four main types of strategies, using different methods to generate returns.
"Long/short equity" strategies aim to deliver uncorrelated returns by buying the shares of dynamic companies that are expected to rise in value, and selling those of declining companies whose value is expected to fall. By buying and selling shares at the same time, these funds eliminate exposure to overall market movements and focus solely on the long-term performance differential between their bullish and bearish positions.
For example, in the healthcare sector, a strategy that creates long-term value would involve buying innovative biotechs and selling the shares of sector majors that are less innovative and suffer tougher competition.
Secondly, "global macro" strategies take a broader approach, for example comparing countries according to precise economic criteria (GDP growth, balance of payments etc.) in order to make bullish and bearish bets, mainly on interest rates, bonds and currencies in those countries. The strategy can be either discretionary (based on fundamental criteria) or systematic (based on mathematical models).
The third type of strategy is "event-driven", which aims to take advantage of any major events affecting companies, particularly M&A and LBO transactions. When those events take place, investors struggle to determine a fair price for a listed company, giving hedge funds the opportunity to benefit from market inefficiencies.
Finally, "relative value" strategies aim to generate value by exploiting small price differentials in equity and bond markets. To obtain higher returns, relative-value funds also make use of leverage in a controlled manner.
Increasingly accessible to investors
There has been a big increase in the number of hedge-fund managers in the last few years, and they are now much more numerous than they were before 2008. It must be said that stiffer competition between hedge funds and the diminishing investment opportunities offered by the markets have reduced funds' average returns in the last few years. However, certain established hedge-fund managers have continued to deliver steady, consistent returns over 10, 15 or 20 years.
Finally, certain hedge-fund strategies are now accessible to retail investors, having previously been reserved for professional investors only. The most liquid strategies (particularly long/short strategies) are now available through UCITS funds that meet European mutual-fund standards. As a result, all investors can now use these strategies to diversify their portfolios and benefit from returns that are genuinely uncorrelated with those of their other investments.
UBP Alternative Investments
---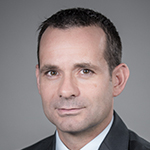 Olivier Marion
Head of Business Developement
& Senior Investment Specialist