Emerging equities have had a rough ride in the last few years, but are now back on the radar for international investors. Their recovery started in January 2016, although they have so far reversed only a small proportion of their previous underperformance. Valuations are not excessive, even though between the start of the year and 22 September the MSCI EM (emerging markets) index rose 30%, double the gain achieved by the MSCI World index over the same period.
Within the emerging equities asset class, large-caps have outperformed small- and mid-caps.
The same phenomenon has been seen in the US market, where there have been exceptional gains for the FANG stocks, i.e. Facebook, Amazon, Netflix and Google. Although leading mega-cap stocks in emerging markets lack any similar acronym, five companies stand out: Chinese internet and mobile service specialist Tencent, Korea's Samsung Electronics, China's Alibaba, Taiwanese semiconductor producer TSMC and South African media group Naspers. The gain achieved by these five stocks this year has been double the historical average of emerging-market mega-caps. This shows that the situation in the US market, where returns have been concentrated among a handful of major tech stocks, also exists in emerging markets, where certain blue chips have benefited from excellent performances in the internet and semiconductor sectors this year.
Value stocks: extremely low multiples
China's dominant weighting in the MSCI EM index calls for particular caution. Although foreign-listed Chinese stocks have pushed the index higher, domestic Chinese companies have underperformed it. The recent decision to include A shares (denominated in yuan and mainly reserved for Chinese residents until recently) is likely to destabilise the MSCI EM index. Although the timetable for including A shares remains vague, investors must bear in mind this upcoming change to the index over the next few years. In addition, Chinese equities have been boosted by fiscal stimulus, which will be less and less beneficial from now on, and the Chinese government has started to tighten its grip on credit. As a result, investors must increase their country diversification in order to manage risk more effectively.
We still prefer the value investing style over the long term. Recent weak performance by value stocks means that their relative valuations are now extremely low in emerging markets, similar to levels seen in 2001 and 2008. Rising interest rates and the correction among tech stocks could trigger a recovery. Aside from value stocks, there are other attractive market segments: investors could also increase exposure to mid-caps, ASEAN countries, Russia and certain commodity producers that have lagged behind in the recent rally.
More about Emerging Equities
---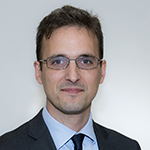 Mathieu Nègre
CFA, Head of Global Emerging Equities