The small- and mid-cap market is still often badly covered by financial analysts who prefer to concentrate on large caps. For those names with a stock market capitalisation greater than EUR 10 billion, it is not rare to have twenty or so recommendations from analysts, and often more than thirty. It is difficult in such an environment to dig up new insights that would not have been taken into account by the market. That said, those stocks with a capitalisation under EUR 1 billion barely feature on the radar of more than five analysts. Consequently, some undiscovered gems have been ignored by investors as the circulation of information in this universe proved to be a lot less dynamic than that in the big-cap universe. This meant that the market remains relatively inefficient, which created significant valuation spreads and thus a good number of opportunities.
Going back to a rigorous quantitative methodology
The European market for small- and mid-caps also offers a great deal of diversity between countries. Moreover, in order to spot the most attractive names, it is preferable to have an efficient quantitative screening tool that can cover this universe which is made up of thousands of companies. A screening process has to be able to select those names that offer attractive growth outlooks, high returns, solid balance sheets and enough liquidity to enable investors to benefit from price anomalies.
Industrial and technology names show solid results
In 2016, the major European caps slightly outperformed the small- and mid-caps (by around 2%), but since the beginning of 2017, so-called 'SMids' (as they are known) are seeing better performance on the market than large caps (+10.48% as at 30 June for the MSCI Europe Small Cap, compared with +6.68% for the MSCI Europe). Their earnings also grew more than those of large caps last year. European economies are enjoying more favourable conditions (PMIs are looking good), buoyed by the reduction in political risk (for example, the election of Emmanuel Macron in France). However, mid-caps are more exposed to the domestic market in the eurozone. These companies are also concentrated more on cyclical businesses, be they industrial or technological. Mid-caps have a big presence in niche markets, so they suffer less markedly from the potential dangers in the global economy, which is a factor that is not always properly recognised by the market.
In short, the macro- and microeconomic conditions remain favourable in the SMid-cap universe. Despite a recent rise, their valuation levels remain perfectly reasonable. There are still a number of opportunities out there, in particular in French, Spanish and Irish names, provided that this very rich universe that is not often sufficiently covered by specialised analysts can be properly filtered.
---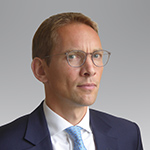 Charlie Anniss
Small- and Mid-Cap Portfolio Manager, European Equities team