The Chinese equity markets are about to undergo a change that will affect most asset allocators. Previously, most international investors with exposure to China could only buy shares listed in Hong Kong, which were also the only ones included in international indexes. That situation is now changing. Operational and regulatory barriers are gradually coming down and investors are increasing their exposure to "domestic" stocks, i.e. those listed in Shanghai and Shenzhen. Index providers are now recognising the new situation and taking into account the whole Chinese market. MSCI has calculated proforma indexes, and China's weighting would increase to around 40% in its emerging-equities index and 55% in its Asia index if each domestic market were included in full.
As regards the emerging-equities index, the resulting lack of diversification could prompt investors to ask whether their benchmark index is still a global one. The resulting concentration of country risk would create risks for investors. Country risk is a major risk factor in a global emerging portfolio, and if one country were to dominate – however important that country may be – diversification of that risk would automatically be reduced.
The phenomenon is not entirely a new one for investors in emerging equities. When it was created in 1988, the MSCI Emerging Equities index was dominated by Malaysia (30% weighting). Later, Mexico's weighting reached 29% in 1992 and South Korea's hit 22% in 2002. These variations have been caused by the many countries that have entered and left the emerging-market universe over the years. They also reflect the wide swings in these countries' economic cycles. Investors who follow the index for their geographical allocation are taking the risk that their portfolios will lack the necessary geographical diversification when economic cycles turn down. The aforementioned countries provide good examples of this. The Malaysian index badly underperformed those of other markets between 1988 and 1992. Mexico was hit by the "Tequila crisis" in late 1994. South Korea suffered from a domestic financial crisis and its index fell 40% from its peak, marking the start of a long period of underperformance.
China's case is more complex. There is little point trying to predict a crisis in China, since many have unsuccessfully been doing just that for a number of years now. The scale of China's economy should also be taken into account. The world's second-largest economy will inevitably have a significant weighting in a global portfolio. However, like Japan, it is likely that China will soon become too big to be included proportionally in a regional or emerging-market portfolio. When investors talk about exposure to Asian equities, they are often tacitly referring to Asia ex-Japan indexes, and they decide on their Japanese exposure separately. It would be logical for them to take the same approach to China. Asset allocators would then have two separate decisions to make: one concerning emerging markets broadly, and another concerning China specifically.
In the circumstances, we believe as asset managers that it is important not to let index providers make these strategic decisions for us. UBP has decided to adopt an investment approach that focuses on diversifying country risk as part of our emerging equity strategy. This approach allows us to manage more effectively the risks inherent in emerging equities, and to anticipate the increase in China's weighting within global indexes. Investors wanting to increase their exposure to China can still do so via a country fund. However, those that want to invest in emerging markets as a source of differentiated returns will enjoy better diversification of country risk. Other approaches exist, and they are sure to be adopted elsewhere. However, taking a passive approach to current developments does not appear to be the best plan, since they will probably have a major impact on how risk is managed in future.
---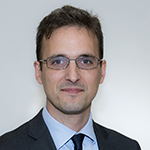 Mathieu Nègre
CFA, Head of Global Emerging Equities